User Access VISIBILITY
See Who Has Access to What
Get a single view of your entire organization and who has access to each application. Zilla makes it easy to gain detailed visibility for all applications and platforms—in the cloud and on-premises.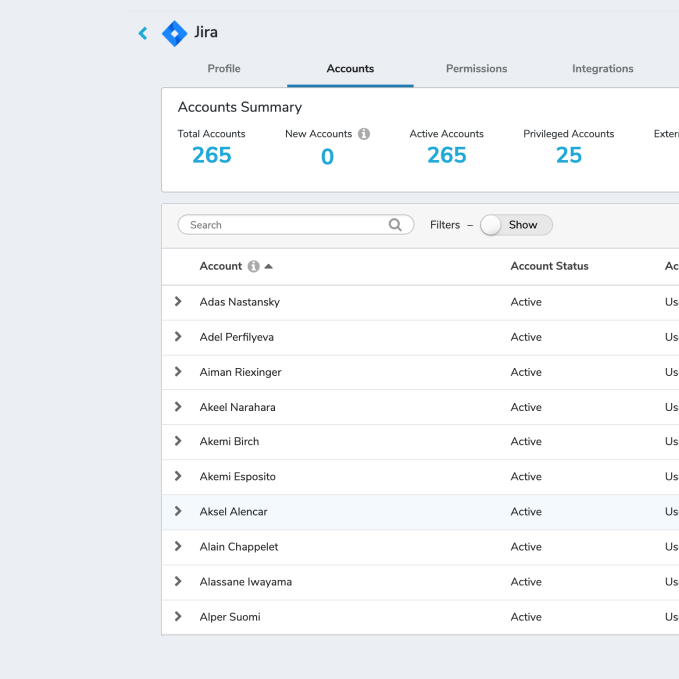 Track all access
Automatically correlate accounts and permissions to identities in your directory system of record and identify permissions that pose risk. Zilla gives you insight into the relationships between application access and identities in a centralized directory, even for federated access in cloud environments.
Gain comprehensive visibility that enables you to track accounts, group memberships, and permissions—both service accounts and accounts used by API integrations—and take action.
Use Zilla's system of record (with a historical view) for an up-to-date snapshot of your environment, including changes and additions.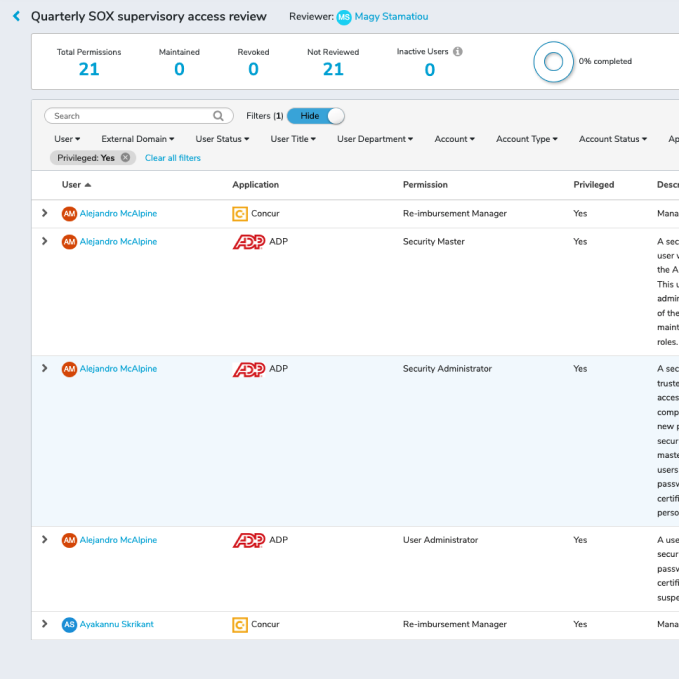 Manage privileged access
Establish who has privileged access and who doesn't.
Zilla's filters easily identify privileged permissions, users who have been disabled, privileged accounts that are orphaned, or privileged users who have not logged in for months.
Protect your sensitive data and improve both access security and compliance as you grow your cloud footprint.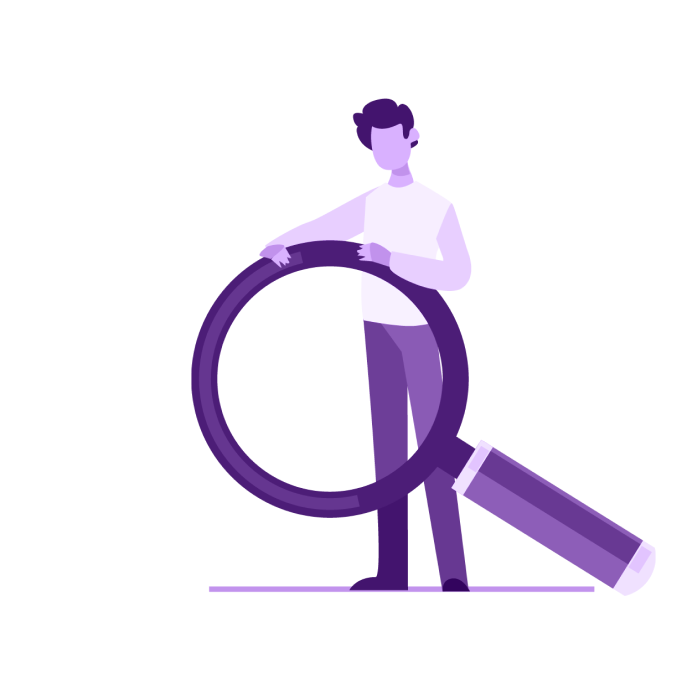 Validate least privilege access
Streamline organizational compliance and reduce security risks and eliminate unintended access to your critical systems. Zilla shows detailed permissions for each account across your applications to enable "Zero Trust" security.
Eliminate over-privileged accounts and enforce least privilege access.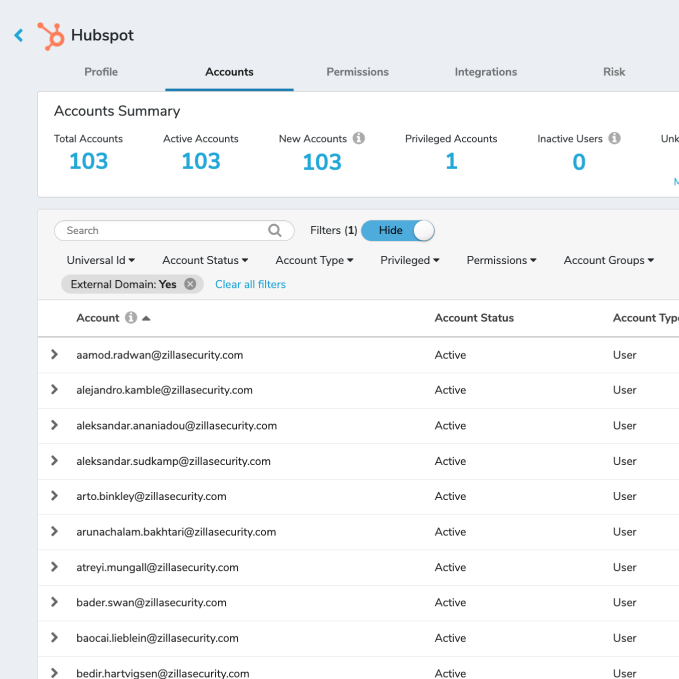 Identify external users
Protect sensitive data while facilitating customer and partner collaboration. Zilla helps safeguard your organization by showing who has access to your systems.
Reduce the risk of access abuse by automatically detecting non-employees and validating that only authorized external users have access.
Consistently see third-party access across all applications—in the cloud and on-premises—and manage your external identity risk.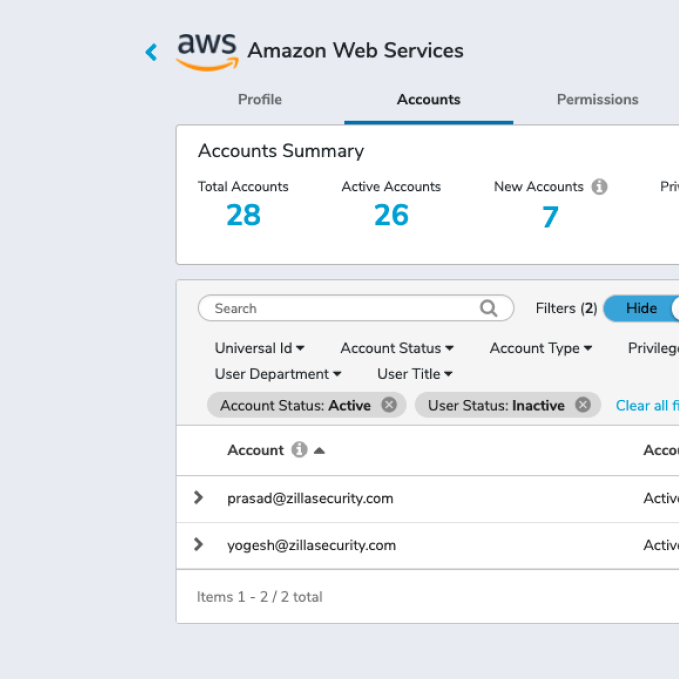 Remove orphan accounts
Guarantee your off-boarding processes are complete with an accurate view into active accounts for people who are no longer with your organization. Zilla gives supervisors and administrators an easy and efficient way to identify orphaned accounts quickly.
Simplify your identity and access management processes and improve your security posture.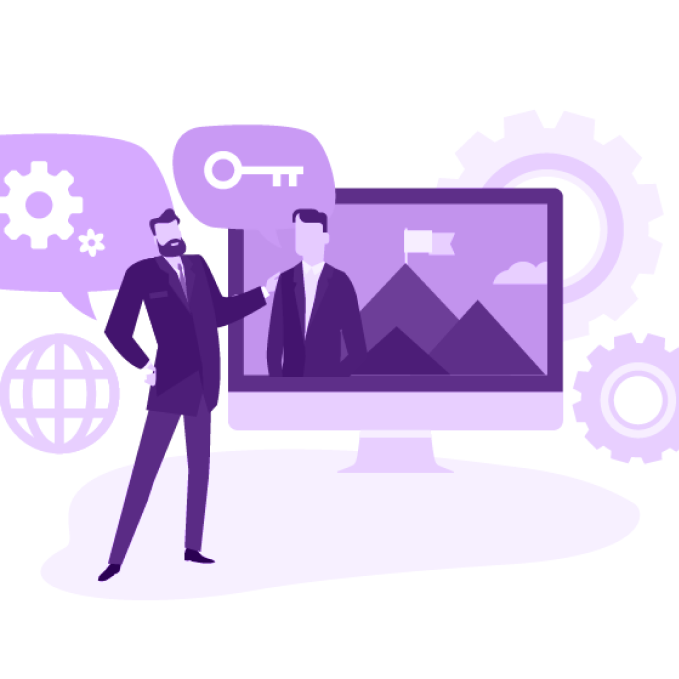 Track API integration access
Manage the risk of data leaks across API-based integrations for all your cloud applications. Zilla's drill-down capabilities let you see each account and its permissions for every onboarded application, including accounts used for API access.
Make SaaS safer with visibility into API integrations and their ownership, including the application accounts your APIs have.
See your entire organization at a glance
Gain detailed visibility for all applications and platforms—both in the cloud and on-premises—with a single dashboard.